Home >
Green Soybean EX Powder
Green Soybean EX Powder
Characteristics
Anti-allergy effect
Green soybeans are expected to alleviate symptoms of allergies through regulation the Th balance and suppression of IgE production.
Rare soybeans produced in Japan
Green Soybean EX Powder uses Japanese green soybeans as its ingredient. Green soybeans have a sweet, delicious taste due to the large amount of oligosaccharides.
Unique manufacturing method
Green soybeans are pulverized and processed under optimal thermal conditions to provide a plain flavor without a grassy taste, resulting in a smooth powder material with the original nutritional value of soybeans.
Effects of Green Soybean EX Powder
Suppression of pollinosis symptoms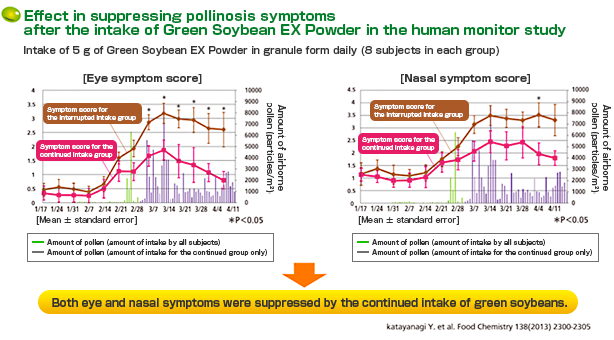 Green Soybean EX Powder Product Information
| | |
| --- | --- |
| Generic name | Green soybean processed powder |
| Ingredients | Green soybeans |
| Package presentation | Aluminum bag(10kg) |
| Best-before date | 12 months after production(in an unopened state) |
| Storage method | Store the product in a cool location away from light. |