Home >
PureSorb-Q™40(Water-Dispersible Coenzyme Q

10

)
PureSorb-Q™40(Water-Dispersible Coenzyme Q

10

)
Characteristics
40% content of coenzyme Q
10
The product is a high-concentration powder, of which 40% is made up of coenzyme Q10.
High absorbability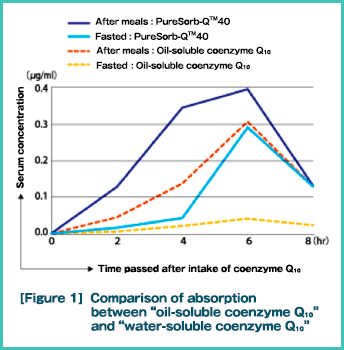 The traditionally used oil-soluble coenzyme Q10 showed a low absorption rate under fasted conditions and was recommended for intake after meals. However, PureSorb-Q™40 realized a high absorption rate under fasted conditions via ultra-fine particle processing achieved by nanotechnology.
High dispersibility in water
The product is highly dispersible in water.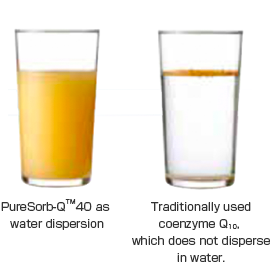 Versatility
The product minimizes problems during tableting(sticking and spots caused by bulk powder).
The product is available for use not only in tablets but also in a variety of product formats including beverages and jelly. Also, PureSorb-Q™40 does not have a taste of its own and therefore does not affect the flavors of other food components.
PureSorb-Q™40 product information
Generic name
Coenzyme Q

10

water-soluble powder
Ingredients
Coenzyme Q

10

, Maltodextrin(tapioca), Food starch-modified, Glycerin
Package presentation
Aluminum bag(1kg)
Best-before date
30 months after production(in an unopened state)
Storage method
Store in a cool location away from light.

PureSorb-Q™40
(Water-Dispersible CoenzymeQ

10

)