Home >
Aqua Q

10

P5-NF(Water-Dispersible Coenzyme Q

10

)
Aqua Q

10

P5-NF(Water-Dispersible Coenzyme Q

10

)
Characteristics
5% content of coenzyme Q
10
The product is a powder, of which 5% is made up of coenzyme Q10.
High absorbability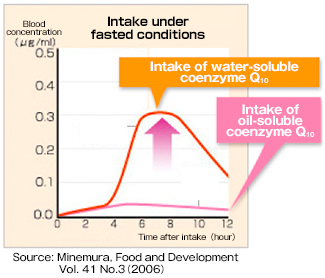 Aqua Q10 P5-NF realized a high absorption rate under fasted conditions.
Versatility
Compounding of the ingredients and the design of the manufacturing method enabled the product to be added without affecting flavor or texture, and this allows finished products to be developed with a focus on tastiness.
High dispersibility
The product rapidly disperses in cold water.
Aqua Q
10

P5-NF product information
Generic name
Coenzyme Q

10

water-soluble powder
Ingredients
Lactose, dextrin, coenzyme Q

10

, sorbitol, gum Arabic, malic acid
Package presentation
Aluminum bag(1kg)
Best-before date
24 months after production(in an unopened state)
Storage method
Store in a cool location away from light.

Aqua Q

10

P5-NF
(Water-Dispersible CoenzymeQ

10

)