Home >
Aqua Q

10

L10-NF(Water-Dispersible Coenzyme Q

10

)
Aqua Q

10

L10-NF(Water-Dispersible Coenzyme Q

10

)
Characteristics
10% content of coenzyme Q
10
This product is a water-soluble-liquid containing 10% coenzymeQ10 .
High absorbability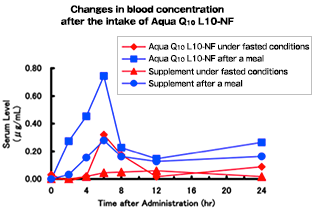 Aqua Q10 L10-NF realized a high absorption rate under fasted conditions.
Versatility
Compounding of the ingredients and the design of the manufacturing method enabled the product to be added without affecting flavor.
Nano-order emulsion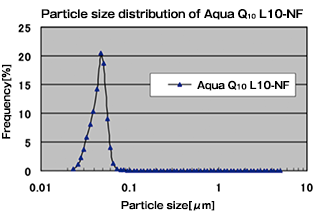 This product is a nano-order coenzyme Q10 with a mean particle size of 52 nm.
Aqua Q
10

L10-NF product information
Generic name
Coenzyme Q

10

water-soluble liquid
Ingredients
High-fructose corn syrup, coenzyme Q

10

, emulsifier
Package presentation
Brown resin container(1kg)
Best-before date
12 months after production(in an unopened state)
Storage method
0°C to 10°C(in a refrigerator)

Aqua Q

10

L10-NF
(Water-Dispersible CoenzymeQ

10

)